Anal Beauty Present - Herda Wisky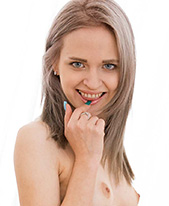 Rate This Model (Overall Rating 9.5)
Rate This Scene (Overall Rating 8.80)
Every person has his or hers own favorite fruit. This cutie adores peaches so much that she can be called a peach as well. But do not be fooled with her sweet face and body. She is sweet but she is naughty and very hot at the same time. Sweetie knows how to turn on her lover and how to make him crave for her ideal body. Sure, she gets creamed with a load of cum after a couple of orgasms.
Download Full-length Video:
Cick Here to Watch All Scenes Right Now!


GET 40+ Teen Porn Sites for The Price of One!